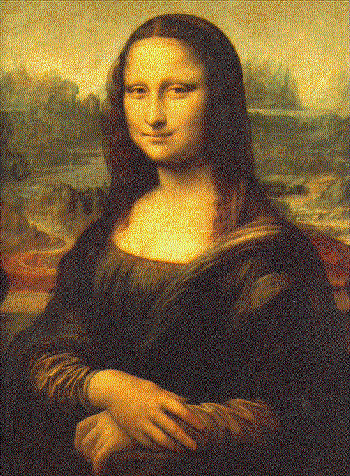 Welcome to my site, it has taken me a while, but I have shuffled around the piles of information on my desk dealing with this project, and final decided to quit my procrastinating and do something about it.
When thinking up a name for this site and all that it encompasses I had to think of all the attention to detail. Just like an artist, some times you have to just take a step back and look at the whole picture and marvel at it. Hence the name for this site, it is my "Mona Lisa" with all it's detail and mystery.
I have recently found a whole other branch in my family tree. The story is I was sitting around with some friends and the phone rang. This is how the conversation started out……..
"Sonya Geary," "yes" I said, "you don't know me but, I down loaded your genealogical file that you submitted to the Latter-day Saints sight, and I think we are related!" At this I was ecstatic as you can well imagine. We traded each other's email addresses and particulars. My point being to you the fellow genealogist not to give up hope!
The latest updates to this site are newly acquired wills of James Robert Kerr, Howard Latimer and more precise details to some of the Kerr family information. Two new areas have also been added to this site, The Sudetens, And the Johnson & Lindstroms, however they are both in the beginning stages. Family crests and some gravesite photo's have also been added through out the site. But if you are interested in a certain individual, pictures are available by request; we have far to many to post them all.
For those of you who may be visiting for the first time, I owe a big hand of thanks to the following friends and family who help research information for this site. Doug Kerr, Linda Boily, Maynard Foster, Carolin Fox- Mayes.